Should I see a physio for pain in my knee?
Whether it's a recent knee injury or a nagging pain that just won't go away, you've decided to seek help. You're probably wondering, 'Should I see a doctor or a physio for my knee pain?'
The answer depends on your symptoms. While physiotherapists can treat a variety of knee injuries and reduce pain successfully, there are situations in which you should contact a doctor.
When should I see a doctor instead?
Some symptoms require immediate medical attention since they could be signs of a serious underlying condition, such as infection, a blood clot, a broken bone, or an injury that requires surgery. You should seek out a doctor's care at the emergency department if:
Your pain is unbearable
Your knee looks misshapen or extremely swollen
Your knee or its surrounding tissue is hot or red
You have a fever
Also, you should consider making an appointment with an orthopaedic doctor if your knee will not bear weight, if it feels locked or incapable of movement, or if it shifts or gives way when you put weight on it – in this case, you may require knee surgery. Some conditions such as knee osteoarthritis that can't be managed with regular exercise, a healthy diet, or equipment may require surgery.
Otherwise, a good physio can usually handle most types of pain of the knee joint and surrounding muscles and prescribe exercises and other interventions that can help you heal – and even prevent future knee trouble.
What can a physio do for my knee pain?
A Physiotherapist can assess and diagnose the cause of your knee pain and then provide you with a custom treatment plan that will relieve your pain and help you recover more quickly. Many of the exercises your physio prescribes for you will eventually help to strengthen the muscles surrounding your knee, giving your knee joint added support.
Dry needling and manual therapy may also be recommended.
Activity modification to help reduce pain e.g. if your diagnosis is runner's knee, swapping it out for low impact exercise like cycling or swimming will help your knees and muscles recover faster.
Injuries such as patellar tendinopathy (patellar tendonitis or tendinitis) otherwise known as Jumper's knee may benefit from cryotherapy and rest, but may also require specific biomechanics or strength training intervention.
If you're dealing with knee pain that has given rise to chronic inflammation, your physio might recommend that you work with a nutritionist, massage therapist, or chiropractor to reduce the inflammation through a holistic approach.
In addition, physiotherapy is often an essential ingredient in your recovery from serious knee injuries. So, if you're seeing an orthopaedic physician for a serious injury, your doctor will likely refer you to a physiotherapist at some point in the treatment process.
However, you don't need to obtain a referral from a doctor to make an appointment with a physio. Physiotherapists have the qualifications to diagnose and treat most conditions that cause knee problems so long as the condition is treatable by physical means.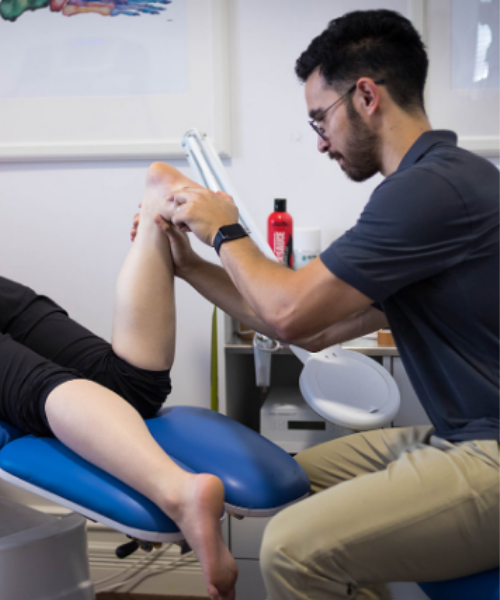 Can I do physiotherapy for knee pain at home?
While treatments themselves occur inside the physio's own facilities, your therapist will likely assign you some exercises that you can do at home to speed your recovery.
First, you'll perform each exercise under your physio's supervision to make sure you're doing them correctly. Then, when you've mastered these exercises, you can perform them at home as your physiotherapist directs.
Exercise and other treatment options to treat pain affecting the knee cap, cartilage, muscles and ligaments will vary based on the condition causing the pain. Some of the best physio exercises for knee problems include:
Hamstring stretches
Calf stretches
Isometric quadriceps contractions
Straight leg raises
Calf raises
Low-impact aerobics
Postural correction exercises
Bridges
Knee extensions with resistance bands
Leg side raises with resistance bands
When you combine physiotherapy with home exercises, a healing diet (excess weight is a leading contributor), stress reduction, and other natural treatments, you'll have a better chance of knocking your knee pain and muscle soreness out for good.
At The Wellness Place, we have a broad range of holistic therapies that treat the whole body. For professional medical advice, get in touch with our Perth-based team in Bassendean today.