It is a common question and often a point of confusion as to what a podiatrist does, as far as treatment and scope of practice.
Most of our time is spent assessing, diagnosing, and treating lower limb conditions. In terms of our training most undergraduate programs are 4 years of full-time university with a focus on biochemistry, human biomechanics, anatomy and physiology, in addition to podiatry specific clinical practice and associated study.
We treat people of all ages, and a myriad of conditions. Basically anyone with feet! And this is what makes a day in the life of a podiatrist so diverse. In a single day, you could treat a person for heel pain, whilst later addressing ingrown toenails, providing intervention for an in-toeing child and screening for neuropathy and circulation in a diabetic patient.
No issue is too big or too small .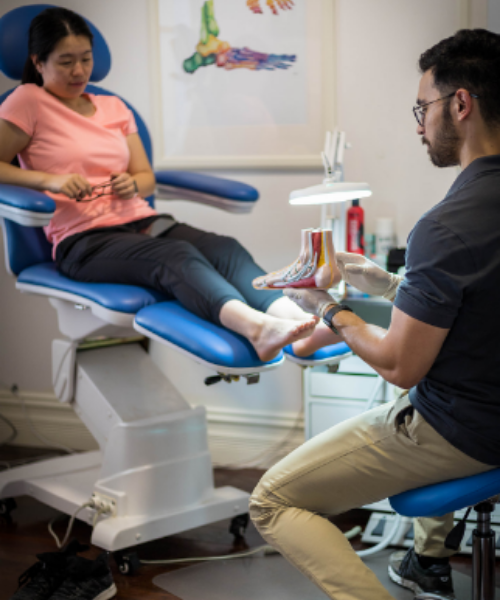 Below is a broad list of categories that a podiatrist treats.
Skin and nail care: When it comes to making sure your nails are healthy or free of fungus, corns/hard skin and callus are removed safely and painless, and addressing ingrown toenails, we are the people to see.
Orthotic therapy: Biomechanical and postural complaints such as flat or very high arched feet, in addition to optimising foot function can be addressed with orthotic therapy in the form of custom or pre-made dependant on the circumstances. They can be a very useful tool to unload injured tissues during an acute or chronic injury, or a way to reduce muscular and joint strain in active individuals with jobs or activities that place high demands on the lower limb.
Diabetes screening and management: Podiatrists play a vital role in screening for the effects of diabetes such as neuropathy and impaired circulation. Due to the increasing epidemic of diabetes and the burden it places of the health system, it is crucial to prevent complications related to diabetes. We ensure diabetic's feet are in good condition to ensure long lasting mobility and prevent hospitalisations.
Footwear: A podiatrist is well positioned to provide advice on appropriate footwear for an individual based on their unique biomechanics, activities and occupation. Aside from the dynamic function of the foot, the size and shape of feet mean considerations for length and width and the shape of the outsole are important considerations. We have regular contact with leading footwear companies on the latest innovations and ranges that can suit a person's foot, get the right fit and help with the particular issue, rather than worsen it.
Running and Gait Analysis: From simple gait retraining and analysis, it can help paint the overall picture of why someone might develop lower limb pain. It can also be useful to have a trained eye to assess running technique to optimise efficiency, reduce injury and facilitate improved performance.
Paediatric issues: We commonly see young children for postural concerns, ingrown nails, warts/verruca and in-toeing. Often a parent wants to be advised if their child is progressing and developing with a normal range and we can provide assessment to decide whether intervention is necessary. 
Aches and pains: If that niggling knee, hip or back pain is keeping you from staying active, we can assess if their is a contributing factor by evaluating your movement patterns, limb-length and gait cycle. We can help with a combination of assessment, and effective treatments. Life is too short to be in pain!