Hey there, soon-to-be moms! Pregnancy is a magical ride, but it does come with its set of changes, especially in the pelvis. If you're a chiropractic patient, understanding these shifts is key. Today, we're going to explore how your Sacroiliac (SI) joints and some hormonal magic play a starring role in this journey and why a bit of chiropractic care can make it all a smoother ride.
---
Meet Your Backbone: Sacroiliac (SI) Joints
Picture this: your SI joints, hanging out at the base of your spine between your hips, are like the unsung heroes of stability, supporting the weight of your trunk. Ladies, your naturally wider pelvis is built for the miracle of childbirth, thanks to these joints and the awesome team of muscles and ligaments backing them up.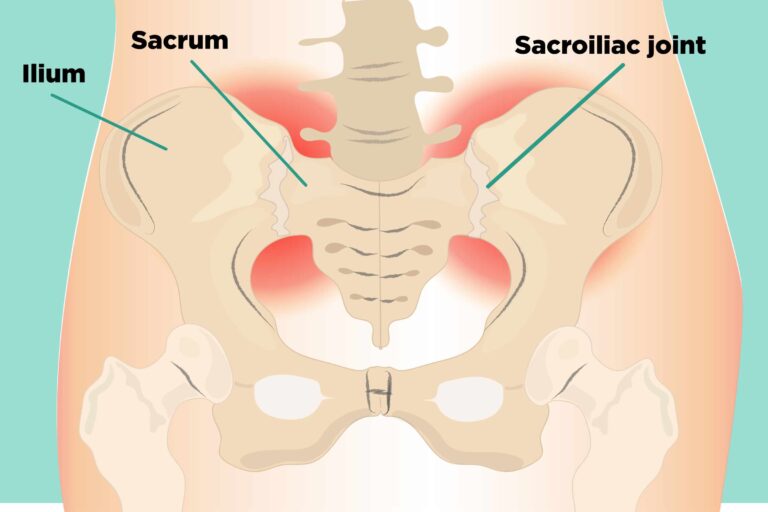 ---
Hormones Take Center Stage: Progesterone and Relaxin
Around weeks 10-12 of your pregnancy, cue the hormonal symphony featuring progesterone and relaxin. These rockstars help your body get stretchy, allowing your ligaments and smooth muscles to accommodate that adorable little human growing inside you. Cool, right? But here's the twist – all this hormonal buzz makes your SI joints a bit more mobile, shaking up their stability compared to your pre-pregnancy days.
---
Muscles Get a Wake-Up Call: Adapting to the New Normal
Now, as those SI joints start grooving, your belly, glutes, and pelvic floor muscles get the memo: it's time to step up their game for stability during your everyday moves. Enter chiropractors specializing in pregnancy care. They're like your personal pregnancy support team, checking out how your pelvis moves, keeping tabs on muscle tension, and making sure everything stays on the stable side.
---
Everyday Woes: Dealing with Pelvic Changes
Let's talk real stuff – the increased mobility of your SI joints might bring some not-so-fun conditions like pelvic girdle pain, lower backache, and other discomforts. But fear not! Chiropractors are on it, watching over you throughout your pregnancy journey, providing relief, and helping you navigate these changes like the superhero you are.
---
Power to You: Chiropractic Care for a Happy Pregnancy
To wrap it up, getting chiropractic care during pregnancy is like giving your pelvis a little extra love. Your chiropractor checks in on your pelvic party, managing the hormonal rollercoaster, stability challenges, and muscle demands. It's all about making sure you cruise through pregnancy with comfort and confidence, ready for the incredible adventure of motherhood. You've got this!
FAQs:
Q1: How does pregnancy affect the stability of the SI joints?
During pregnancy, hormones like progesterone and relaxin increase the movement of the SI joints, potentially making them less stable than before.
Q2: Can chiropractic care help with common pregnancy-related pains?
Yes, chiropractors specializing in pregnancy care can assess and address conditions such as pelvic girdle pain, lower back pain, and others.
Q3: How often should I visit a chiropractor during pregnancy?
Regular check-ins, especially during the different trimesters, can provide ongoing relief and proactive guidance on managing pelvic changes.
Q4: Are there specific exercises to strengthen the pelvis during pregnancy?
Yes, chiropractors can recommend tailored exercises to strengthen the pelvis, contributing to a more comfortable pregnancy experience.
If you are going through pregnancy at the minute and want to know how one of our Chiropractors can help you out, give us a call on (08)93793838 or book an appointment here