DEAFENING SILENCE?!! 4 easy rules to turn that awkward conversation to an engaging interaction!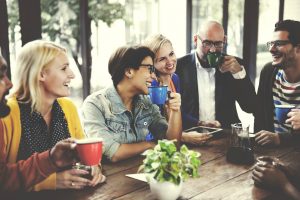 Dr Soroush's Take:
""The rules of communication and formula to a good conversation are something that many people are puzzled by. Have you experienced those awkward moments when the silence can be deafening?!! OMG! I can kill myself.
No matter whom you are with and what the occasion is, there are some simple strategies you can start using this new year to overcome this dilemma as well as truly creating a meaningful connection and relationship with someone.
Now, one of the most important things you need to remember is to ensure that you have the other person talking. One of the biggest mistakes we frequently make is that when we feel that awkward silence, we feel obliged to fill it with our conversation. So, what do we do? We talk. And we talk. And we talk some more….
This leads to an even more unbalanced environment where the other party may actually feel overwhelmed and the whole balance of conversation is distorted as there is no exchange in dialogue. Rather, the other party only gets bombarded with your point of view and information.
One of the best approaches I have got to know about building rapport and getting the other person to talk is the "FORM" approach.
FORM is an acronym that stands for Family, Occupation, Recreation and Motivation.
The "FOR" talk helps build rapport before you delve into the "M," i.e. what motivates a person.
Start with "FOR"ing people and work up to "FORM"ing them. When you find out what motivates a person, you can better connect with them and promote yourself, your ideas or your products.
F: Family. Ask them how many brothers and sisters they have? Do they have kids? What school their kids go to? Do they see their family members often or not? And others.
O: occupation. Only now you can delve into this question. What do they do? Where do they work? Do they work alone or with others? How are they finding the economy affecting their workplace? Do they enjoy their jobs? Are they planning to up skill or study further? Etc etc
R: Recreation. Possibly the easiest conversation to have and the one that makes everyone feel comfortable. Who doesn't want to talk about what they enjoy?! The trips they have taken and places they have visited, places they want to go to, their top 10 bucket list items, the sports they play, what events they want to attend (Olympics, World Cup, etc), or the latest movie they have watched and really enjoyed, their favourite actor/actress/ director, their top 10 movies of all time, and the list goes on and on
M:  Motivation.  Ask questions to determine what is important to the other person.

"Aside from work and recreation, what is really important to you?"
"If you didn't have to work, what would you do with your time?"
"If time and money were no object, what would you do?"
"What in the past has made you the happiest?"
"If you were given 5 minutes to talk with the President, what would you say?"
"If you had a month to live, what would you do?"
"If you could do X all over again, what would you do differently?"
What is exciting is that FORM can be adapted to business, social and dating situations.
Yes, you can apply these principles to keep the communication going at your next Tinder date! ((Not that I'm either endorsing Tinder nor have I ever been on Tinder! All I know about it is that you supposed to swipe right (or is it left?!!) if you like someone and swipe the other way if you don't!!))
So, next time you are in any social or business setting – or on a date – enjoy a fully engaging conversation without that awkward silence!
You are welcome!""