Can Our Pet Help Us De-stress? We ask Soroush Ebtash!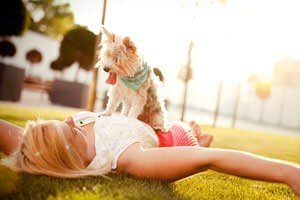 This is a question which I am sure, most of us know the answer. They're cute, cuddly and never argue with us. Our pets also can help us live healthier lives for a number of reasons, with stress reduction being a major one!
Exercise, yoga and meditation help many people de-stress, and I would go further and say that spending time with our pets is also another habit that's good for the body and soul.
Our animals show us unconditional love and are there for support during good times and bad. They also are the ideal workout companion. With dogs, in particular, you can walk them, run with them or have them retrieve a ball.
If you have allergies, consider getting fish or a hypoallergenic animal. Many dogs- and even cats, have been shown not to react with our allergies. Watching fish swim in a bowl or aquarium is profoundly relaxing and may lower stress levels.
Of course, another excellent way to reduce stress is to continue with your health goals and treatments at The Wellness Place as your soft tissue therapy sessions, chiropractic care or physiotherapy treatments may help reduce muscle tension and keep your nervous system healthy. Combine your care with prescribed exercises and sound nutritional supplements and dietary choices and you will be feeling on top of the world.